Welcome

Research in our group, based at the dept. of Molecular Genetics of the Erasmus MC, is focused on elucidating the molecular mechanism and regulation of Nucleotide Excision Repair and its impact on human health. This important DNA repair mechanism protects organisms against DNA damage-induced carcinogenesis and premature aging. In our lab, we apply a multidisciplinary approach to improve our understanding of its molecular mechanism, working from the molecular genetic, biochemical and cell biological level to the level of intact eukaryotic organisms and patients.
News
June, 2017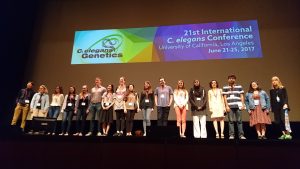 We contributed to the online Rare Revolution Magazine with an

article

describing research on Nucleotide Excision Repair disorders in layman's language
Mariangela Sabatella won a GSA Poster Award at the 21st International C. elegans Conference in Los Angeles
May, 2017
We published a chapter in Methods in Molecular Biology describing  the use of fluorescence microscopy techniques to evaluate noncanonical ATM activation by transcription-blocking DNA damage
January, 2017
We published a paper in Nucleic Acids Research describing a new technique to measure TC-NER activity based on amplification of unscheduled DNA synthesis signal
November, 2016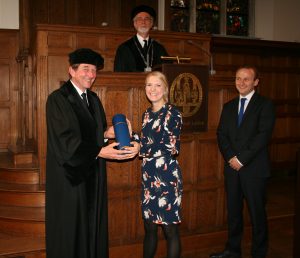 We published a review in Journal of Molecular Biology describing the consequences of DNA damage on RNA polymerase II
Angela Helfricht obtained her PhD at Leiden University after succesfully defending her thesis entitled 'Chromatin modifiers in DNA repair and human disease'
July, 2016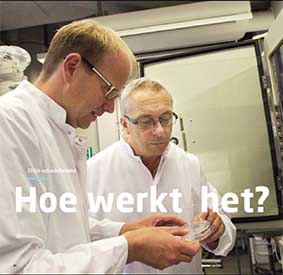 The 2016 second edition of Erasmus MC Magazine 'Monitor' dedicated several articles on research performed in our Molecular Genetics department at Erasmus MC. The interview with Prof. Wim Vermeulen can be read here (in Dutch)
April, 2016
We co-authored a paper in Nucleic Acids Research on a CSB site-specific ubiquitylation specifically involved in response to oxidative DNA damage
February, 2016
We published a point-of-view article in RNA Biology discussing a non-canonical ATM-signaling pathway that orchestrates spliceosome organization, alternative splicing and gene expression in response to transcription-blocking DNA lesions
January, 2016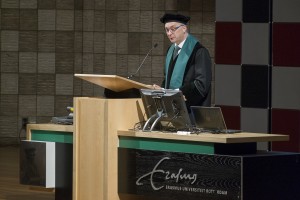 On January 29, Dr. Wim Vermeulen publicly accepted his appointment as Professor of Genetic Stability with an inaugural lecture entitled 'Vulnerable Genes'
October, 2015
We contribruted to a study showing that loss of RAD23 protects against the toxicity of two misfolding-prone proteins causing amyotrophic lateral sclerosis
DNA repair in the spotlight: Nobelprize for Chemistry 2015!! We congratulate laureates Tomas Lindahl, Paul Modrich and Aziz Sancar.
Erasmus MC Magazine 'Monitor' wrote an article about our recent work on transcription-stalling and ATM activation, which was published in Nature. The Monitor article (in Dutch) can be read here.
Marit Geijer started in our lab as PhD student
September, 2015
We published a

preview

in Molecular Cell discussing a novel tripartite damage checking mechanism in Nucleotide Excision Repair
Angela Helfricht joined our team as postdoc
July, 2015
We published a paper in Nature Communications describing that SUMOylated XPC is ubiquitylated by RNF111 to promote its release from DNA damage
June, 2015
In our new paper published in Nature we show that DNA damage-induced transcription-stalling triggers R-loop formation and ATM activation, which promotes spliceosome dissociation and DNA damage induced alternative splicing
May, 2015
We published a review describing tissue specific differences in the DNA damage response in C. elegans
April, 2015
On 17 April, Loes van Cuijk succesfully defended her thesis 'Ubiquitin-mediated regulation of damage recognition in nucleotide excision repair '
Masaki Akita joined us as postdoc
January, 2015
Alex Pines joined our team as postdoc
October, 2014
We published a paper on the differential dynamics of RPA during the pre- and post-incision steps of NER and during replication.
On 29 October, Özge Aydin succesfully defended her thesis entitled 'Chromatin remodeling in the UV-induced DNA damage response'
We published a review discussing the various functions of ISWI type chromatin remodeling complexes in the DNA damage response
September, 2014
Jana Slyskova joined our team as postdoc
July, 2014
We published a

review

on the regulation of DNA damage detection in NER by ubiquitin modifications.
We published a

review

summarizing recent insights into the function of TTDA, the smallest subunit of the transcription and repair factor TFIIH.
Our newest

research article

describes a new function for the SMARCA5/SNF2H chromatin remodeler in fascilitating transcription-coupled NER.
We published a comprehensive

review

entitled Understanding nucleotide excision repair and its roles in cancer and ageing.
On 6 June, Petra Schwertman succesfully defended her thesis entitled 'Ubiquitination in the UV-induced DNA Damage Response'
On 4 June, Arjan Theil succesfully defended his thesis entitled 'Functional Analysis of TTDA: From Human to Mouse – Big impact of a small protein -'
May, 2014
Jurgen Marteijn obtained a prestigious

Vidi award

from the The Netherlands Organisation for Scientific Research (NWO).
A

review

was published describing the role of the HIRA, FACT and Dot1L chromatin remodeling factors in transcription restart after DNA damage.